About Bumler
Bumler Mechanical's goal is to deliver the best service to you and keep pace with your evolving needs, from construction to ongoing maintenance and support. We intend to partner with you for life.
Always...
Exploring, developing, optimizing and delivering customer focused needs.
Delivering leading edge technology with high quality and reliability, without a premium price.
Consistently delivering projects under budget and on schedule.
Providing owner orientation, training and ongoing support.
Emphasizing safety to our employees - our safety record is superb with an EMR of .54
Operating, monitoring and servicing for peak performance.
Training our employees to be leaders in their field so you receive the benefits of their expertise.
Bumler History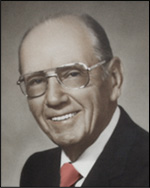 Fred Bumler
Founder
In 1946, Fred Bumler established Bumler Heating and Specialties as a residential heating company. Specializing in every element of the process, Bumler has stood out from all others for over 60 years.
Continuing a tradition of growth, the 1970s and 1980s were a time of great expansion for Bumler. Bumler started building a strong presence in the commercial construct and service markets, as well as adding design/build/maintain capabilities. Also at this time, energy management and building automation needs helped spur the development of Building Automated Systems and Services (BASS), pioneers in the field of direct digital controls (DDC).
For decades, Bumler's commitment to exceeding client expectations has helped them grow into the full service HVAC company they are today.
Our Mission: "To attain and maintain customers through actions, attitudes and services to the extent that we are recognized as exceptional."